Women's Projects
With our projects for women, we want to strengthen, encourage and inform women of their rights. Particularly in India, women need special support.
The Women-Empowerment-Project informs women about their rights, it helps in disputes and accompanies women to the police; it is committed to a good village community; in self-help groups women gain self-confidence and self-esteem. Five of the women self-help groups are now granting micro-loans.
Our Activities 2012
Rangoli Contest
In January 2012, there was again a Rangoli competition in three villages: Vengalammacheruvu (120 participants), Kesapuram (140 participants) and Buchaigaripalli (220 participants).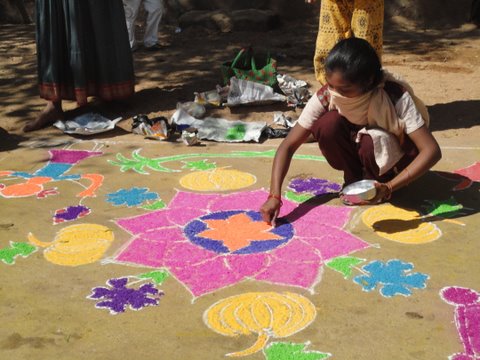 A flyer was published to invite participants to the competition. Rangoli is the Indian tradition of chalk paintings on doorsteps. The base for the painting is disinfecting cow manure. The preliminary sketch originally was done with rice flour to feed off vermin from the house's front door. The three most beautiful Rangoli were awarded and the prizes were issued by the village's high-ranking personalities. One participant said that she particularly enjoyed that there was no age limit, another one pointed out that the competition spanned all castes and religions and that almost all the women of the village took part. A third one referenced the festival mood in the entire village.
Health Camp
On February 25, 2012, a homeopathic health camp was held in the Women's Centre in Kothacheruvu. It was a big success and thus the health camp was repeated on March 31. Commonly, homeopathic medicine has no side effects; It was generally recommended to drink more water and to take drum stick tonic every morning to avoid 90% of the diseases. 52 patients came to see the friendly doctor.
Further Information
For more information please consult the five-year report or visit the project's website:

Join us and support our efforts!
Donation account of Anahata-Stiftung
Account number: 3751240124
Bank code: 70020500
Bank für Sozialwirtschaft (München)
IBAN: DE09700205003751240124
BIC: BFSWDE33MUE
Anahata-Stiftung is recognised charitable by German tax authorities (Finanzamt München für Körperschaften) and authorized to issue donation receipts.
Ladies Club Meeting
At the Women's Centre, there are so-called Ladies Club, where women are taught skills that they can earn some extra money with. In a three-day workshop women learned how to make candles and crayons. They also were introduced to bookbindery. The activity was headed by one of the college's directors.
Baby Massage
In India it is a tradition to massage babies before bath. This is a common health care for young children. Studies have shown that babies that were massaged regularly had to go to hospital less frequently, gained weight more quickly and showed signs of healthy growth. A regular massage calms the baby and thus ensures a good night's sleep. On the other hand, in waking phases the child is more alert and lively. Massaging the infant promotes motor activity and emotional security, digestion is stimulated and gases can escape more easily. At the Women's Centre Gloria, an Ayurveda therapist, introduced the young mothers to baby massage.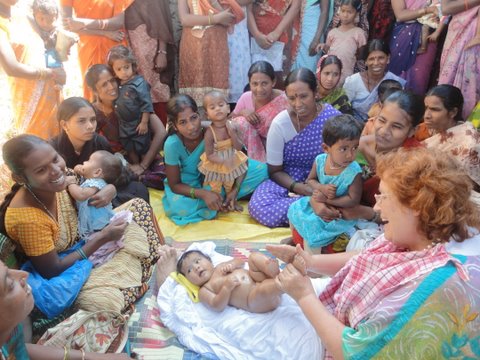 International Woman's Day
This year again the International Women's Day was celebrated on March 8. New government programs were presented, which aim at promoting girls from childhood to teenage age.